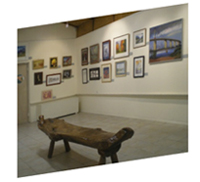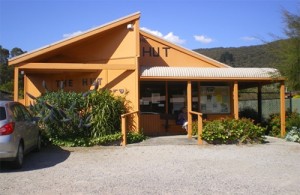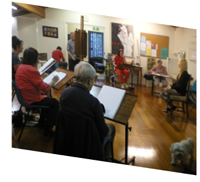 The Ferntree Gully Arts Society was formed in 1944 making it the second oldest in Victoria. The aim was to encourage the practice and appreciation of the arts. Early members described themselves as "a group of people who meet regularly to draw, paint and yarn together". This is very much true of today with members attending friendly untutored workshops in painting, life drawing, still life, printing and portraiture. Classes in pastels, acrylics, oils and drawing are offered on a term basis. Members have the opportunity of entering their work in several exhibitions a year, with awards in watercolour, pastel, drawing and print on offer. The coveted Annual Award takes place each October. In past years this was an acquisitive award which largely formed the Hut Collection of some 100 works. Other regular exhibitions include 'Young at Art' and 'Street Art on Canvas' both held to encourage and display the talent of young artists in our community.
Poetry and Music afternoons are held bi-monthly on Sundays, and those attending are invited to read their works or a favourite poem. A lavish afternoon tea is served during the interval.
The Ferntree Gully Film Society, established in 1956 as part of the Arts Society, presents a series of screenings both English language and International films on the fourth Monday of each month. Screenings begin at 7pm in the Europa cinema, Village Cinemas Knox, Wantirna South. Membership is on an annual basis from January each year. A quarterly newsletter with synopses of the next three films is sent out to all members.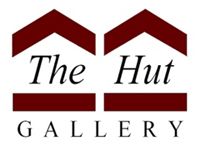 Location:
157 Underwood Road Ferntree Gully 3156
Postal address:
PO Box 8167 Ferntree Gully 3156
Phone:
(03) 9758 8955
or
8756 4286
Email:
the_hut@outlook.com
Website:
thehutgallery.wordpress.com
Film Society:
(03) 8756 4286
Poetry & Music:
(03) 9758 0038