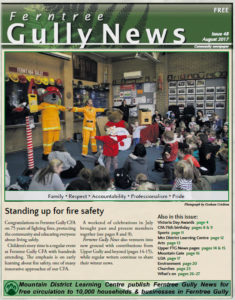 Community newspapers are flourishing across Victoria, reporting the affairs of local organisations, promoting events and educating on issues such as safety, health, sustainability and environment. They are widely recognised as an important source of local news for the communities they serve.
In 2009 Mountain District Learning Centre in collaboration with Lower Gully Traders Association, the Friends of Ferntree Gully and Neighbourhood Watch relaunched the earlier Village News as Ferntree Gully News, a bi-monthly tabloid format paper.
We are happy to offer Gully News to a wider readership via this website. The paper is written, edited, formatted and distributed by volunteers. Comments and contributions, as well as advertisements are welcome.
The office of The Gully News is located at The Cottage, 8 The Avenue, Ferntee Gully and is open on Tuesdays.
Find the latest edition at the Gully News Website at: ferntreegullynews.com
Address:  "The Cottage" 8 The Avenue, Ferntree Gully.